Family-oriented driving enthusiasts have plenty of sport-sedan options
From what used to be a bit of a conundrum, the sport sedan has become a staple of today's performance motoring market. Automakers are doing a better job than ever before of creating four-door cars that deliver driving thrills and family friendliness.
The qualifications for this sport-sedan comparison: room for a family of five, a powerful engine, and a reputation for performance and handling. Easy enough!
Here's a look at a few sports sedans from a cross-section of the marketplace. Many more exist, so be sure to use our site tools to research further.

Model: Dodge Charger SRT8
Starting Price: $45,845
Overview: The Charger SRT8 is all about poise, performance, and potency. This big American contender fights for sports sedan shopper's dollars with a high-value blend of a SRT-tuned chassis and driveline components, high-aggression style and a whopping 6.4L, 470-horsepower V8. A 5-speed automatic with paddle shifters sends it all to the rear wheels, while Brembo brakes deliver stopping power to match.
The latest connectivity, multimedia, and safety features are all on display here, as is one of the roomiest interiors and trunks in its class. Here's a family-ready hot-rod that won't break the bank while putting down performance figures to embarrass many a pricey coupe.
Pros: Truly a family-ready sedan, the Charger SRT8 offers heaps of room, loads of safety features, and a surprisingly comfortable, laid-back and relaxing ride when you aren't driving the bejesus out of it. When you are, performance is exhilarating, violently fast, and laced with all of the dirty V8 noises you'd care to hear.

Cons: Fuel mileage can get heavy for aggressive drivers, and there's no manual transmission available to truly connect with driving enthusiasts.
Noteworthy: Should the music from the SRT V8 engine become tiresome, be sure to crank the dial on the 19-speaker stereo system, which includes a 900-Watt subwoofer. Navigation, Bluetooth, a parking camera system, and automatic lights, wipers, and climate control add convenience, too. A "sport" mode turns all systems up to maximum for push-button access to the full brunt of the Charger SRT8's performance.
Model: BMW M5
Starting Price: $101,500
Overview: From BMW comes what's arguably the world's premier sports sedan: the M5. Now in its latest generation, the M5 packs highly relevant technologies to enhance performance and fuel efficiency simultaneously, while packing world-class luxury and safety into every model.
A rolling showcase of design and technology as much as a performance weapon, the 560-horsepower M5 is as happy cruising the highway at a leisurely pace as it is lapping a road course with velocities to embarrass much smaller cars. Power comes from an M-tuned 4.4L V8 with twin turbochargers.
Pros: When it comes to a truly world-class sports sedan, few machines have proven their capability like this one. Various driver-selectable modes allow the M5 to be set anywhere between laid-back touring car and rip-snorting weekend racer. Room, comfort, and noise levels are all top-of-the-class. Both manual and double-clutch automatic transmission options are available.
Cons: Given the six-figure starting price and similarly expensive potential fuel bills for heavy-footed drivers, the M5 isn't for every budget. The exhaust note is dry and dull from inside the car, meaning enthusiasts after a little noise to go with their horsepower will want to budget for an aftermarket exhaust kit.
Noteworthy: Controls around the gear shifter allow for fine-tuning of gearshift speed, steering feel, shock-absorber damping, and overall system response. Drivers can pre-assign various calibrations to the "M" button on the steering wheel, calling up maximum performance at the click of a button. Exclusive feature content includes a Head-up Display, night vision technology, and plenty more.
Model: Volvo S60 T6 AWD
Starting Price: $46,550
Overview: All-weather capability and sneaky Scandinavian performance team up in this sumptuous, winter-ready sports sedan from Sweden. Unique design, a one-of-a-kind cabin, and beautiful driving dynamics define this "naughty" Volvo, which puts 300 horsepower to all four wheels in standard T6 AWD trim.
All units get a 6-speed automatic with manual mode and the latest safety features and driver assist functions. Look for some of the most comfortable seats in the industry, as well as all sport sedan must-haves including push-button start, xenon lights, and driver selectable "modes" engaged from the available FOUR-C Active Chassis System.
Pros: The S60 is a machine that's confident, posed, and highly refined in all situations — be it snow, ice, rain or bare pavement. The "Instant Traction" AWD system performs exceptionally in the snow and a wide range of class-leading safety features add confidence to any trip.
Cons: No manual transmission is available, nor are paddle shifters for the automatic.
Noteworthy: Utilizing a network of outward-looking cameras, sensors and lasers, the S60 can actively keep an eye on the world around it, scanning for danger and alerting the driver if they're in any trouble. In some instances, the S60 can even self-apply its own brakes to avoid a collision. The FOUR-C Chassis System offers continuous control over the suspension and steering, allowing drivers to set the car to "Comfort," "Sport" or "Advanced" modes.
Model: Cadillac ATS
Starting Price: $35,195
Overview: With the ATS, it's all about the reflexes. Engineers spared no expense to make this highly celebrated new model the lightest and most agile model in its class with performance, fuel consumption, and braking figures to match. The latest in infotainment and communication functionality is centralized via the CUE interface, and numerous engine and driveline combinations are available.
We recommend the 3.6L V6 with rear-wheel drive. You get 321 horsepower, a shrill, exotic exhaust note, and all the snap one could possibly want. Add in the razor-sharp steering and instant, direct responses to driver inputs, and you've got a seriously capable luxury sport driving experience.
Pros: With three engines, available automatic or manual transmissions, and available All-Wheel Drive, shoppers can spec out an ATS to fit any need or budget. The ATS began winning awards from international auto experts across the globe right out of the gate. OnStar, a suite of advanced safety systems, and a highly competitive warranty round out the package in the ATS.
Cons: Rear seats in this high-strung little Caddy are tight, so they're best left for smaller passengers. And, sadly, there's no manual transmission available if you get the high-output V6.
Noteworthy: Hit the track with this one; if you don't you're missing the point. Driven to its limit, the ATS slides and slips beautifully, is easily steered with the throttle and posts braking performance from its optional Brembo hardware that'll embarrass many a German sports sedan.
Model: Infiniti G37 Sedan
Starting Price: $46,040
Overview: One of the market's most coveted all-around sports sedans, this mid-range G37 comes with rear-wheel drive, a manual transmission, and various sport-tuned systems, including a specially calibrated suspension, performance wheels and tires, sport brakes, and a limited slip differential. On board, it's pure class thanks to a Bose audio system, supple leather seats, automatic climate control, and a unique blend of exclusive trim accents.
All models are powered by the acclaimed Infiniti VQ V6 engine, displacing 3.7L and cranking out the better part of 330 horsepower. Look for a 7,500 rpm redline and tight, short shifter for added thrills. This is a proper Japanese sports sedan that's always ready for a play, but more than eager to turn in relaxing travels when desired.
Pros: A reputation for reliability and owner satisfaction comes alongside the G37, and the engine is a multiple-time placeholder on the "Wards 10 Best Engines" list. Refinement, comfort and performance are all top notch, here.
Cons: Headroom may be tight for taller drivers.
Noteworthy: Soon, the G37 will be updated for the 2014 model year alongside a name change to the Infiniti Q50. Though the name, looks, and feature content will be slightly different, Infiniti promises that the Q50 will maintain the performance and agility that have made the G37 a success for years.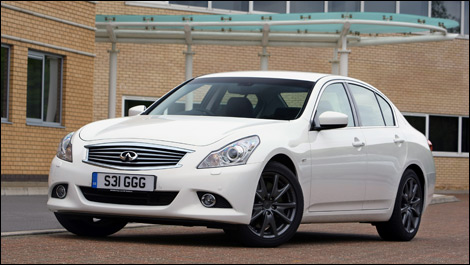 Source : www.auto123.com